Description (English below)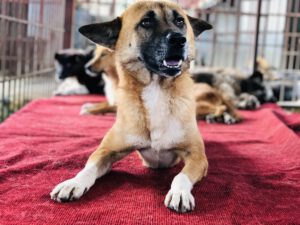 Hallo mein Name ist Paru,
Ich war erst ein Jahr alt, als ich bei Sneha's Care ankam. Ich wurde von einem Fahrzeug angefahren, mein Rücken und hinterer Teil war durch den Unfall gelähmt. Ich weinte vor Schmerz in den Straßen von Jorpati. Ich dachte ich wäre tot. Snehas Pflegeteam rettete mich und brachte mich in das Tierheim.
Die Tierärzte haben sich um mich gekümmert und so erholte ich mich, aber mein hinterer Teil blieb gelähmt. Trotzdem genieße ich mein Leben. Ich bin eine stolze und dominante Dame und lasse mich nicht unterkriegen. Ob mit oder ohne Rollstuhl, ich bin immer aktiv und lebenslustig. Selbst ohne Rollstuhl bewege ich mich zur Überaschung vieler sehr flink. Ich bin nicht aufzuhalten. Mein Leben ist lebenswert – für mich ! Dank dem Tierheim und den Unterstützern kann ich leben, auch mit Behinderung.
Bei Sneha's Care sind wir ungefähr 170 Hunde mit verschiedenen Problemen und unsere Pflege kostet viel. Deshalb suche ich eine Patin/einen Paten, denn ich gehöre zu den Hunden mit einer Behinderung und habe so keine Chance auf ein Zuhause. Weil hier viele Hunde auf sich gestellt auf der Straße leben müssen, können die Menschen sich einfach einen passenden Straßenhund aussuchen – und das sind meist gesunde, hübsche Welpen. In ein Tierheim muss dafür niemand fahren. Ich werde dauerhaft im Tierheim leben müssen.
Möchtest du meine Patin/mein Pate werden?
Du erhältst eine Patenschaftsurkunde sowie regelmäßig ein Update über meine Entwicklung, außerdem eine steuerlich wirksame Spendenbescheinigung. Die Patenschaft kann natürlich jederzeit beendet werden. Bei Rückfragen das Team gerne kontaktieren.
————-
Hello my name is Paru,
I was only a year old when I arrived at Sneha's Care. I was hit by a vehicle, my back were paralyzed from that accident. I cried in pain in the streets of Jorpati. I thought I was dead. Sneha's care team saved me and took me to the shelter.
The vets took care of me and so I recovered, but my backside remained paralyzed. Still, I enjoy my life. I am a proud and dominant lady and will not let myself get down. With or without a wheelchair, I am always active and fun-loving. To the surprise of many, I move very quickly even without a wheelchair. I am unstoppable. My life is worth living – for me! Thanks to the shelter and the supporters, I can live, even with a disability.
At Sneha's Care we are around 170 dogs with various problems and our care costs a lot. That's why I'm looking for a sponsor, because I am one of the dogs with a disability and so have no chance of a home. Because many dogs here have to live on their own on the street, people can simply choose a suitable street dog – and these are mostly healthy, beautiful puppies. Nobody has to go to an animal shelter for this. I will have to live in the shelter permanently.
Do you want to be my sponsor?
You will receive a sponsorship certificate and regular updates on my development, as well as a tax-effective donation receipt. The sponsorship can of course be ended at any time. If you have any questions, please contact the team.
Bank Account Sneha's Care Deutschland e.V.
Germany - Bank für Sozialwirtschaft
IBAN: DE34 5502 0500 0001 6055 00 | BIC: BFSWDE33MNZ