Description (English below)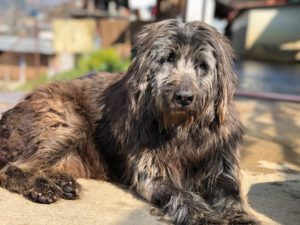 Abschied von Maya
Schweren Herzens verabschieden wir uns von unserer ruhigen und lieben Seniorin Maya. Wir können noch immer nicht fassen, dass du nicht mehr bei uns bist. Unsere Maya war taub und hielt sich daher am liebsten im unteren Bereich des Tierheimes auf. Hier konnte sie gleich jeden Besucher in Augenschein nehmen. Mit ihrer ruhigen Art ließ sie sich nie aus der Ruhe bringen und genoß jede Zuwendung und jeden Sonnenstrahl sehr.
Wir werden dich vermissen Maya, unsere ruhige Seele und die Hündin mit der schönsten Frisur. Mögen dich auf der anderen Seite der Regenbogenbrücke grüne Wiesen und viele Leckerlies erwarten.
Wir danken Stephanie, die unsere Maya als Patin auf ihrem Weg begleitet hat.
—————————–
Farewell to Maya
With a heavy heart we say goodbye to our calm and loving senior Maya. We still can't believe you're not with us anymore. Our Maya was deaf and therefore preferred to stay in the lower area of ​​the shelter. Here she could take a look at every visitor. With her calm manner she never let herself be disturbed and enjoyed every affection and every ray of sunshine very much.
We will miss you Maya, our calm soul and the dog with the most beautiful hairstyle. May green meadows and lots of goodies wait for you on the other side of the Rainbow Bridge.
We thank Stephanie, who accompanied our Maya as sponsor on her way.
---
---
Hallo mein Name ist Maya.
Ich bin eine ruhige, fitte Seniorin bei Sneha's Care. Anfang 2018 wurde ich gerettet. Mein Gehör habe ich leider durch einen Madenbefall verloren, meine Freude hier aber wieder gefunden. Im Tierheim erfahre ich Liebe und Fürsorge. Menschliche Nähe genieße ich sehr.
Mitte September 2018 musste mir ein weiterer Tumor entfernt werden. Das habe ich dank der Fürsorge des Teams gut überstanden.
Hunde wie ich, die schon ausgewachsen sind, finden keine Familie in Nepal. Weil hier viele Hunde auf sich gestellt auf der Straße leben müssen, können die Menschen sich einen Straßenhund aussuchen – und das sind meist gesunde Welpen. In ein Tierheim muss dafür niemand fahren. In meinem Alter und wegen meiner Taubheit werde ich kein neues Heim mehr finden.
Mit Stephanie habe ich aber eine liebe Patin gefunden, darüber freue ich mich sehr!
---
Hello my name is Maya.
I am a calm, fit senior at Sneha's Care. I was saved in early 2018. Unfortunately I lost my hearing due to a maggot infestation, but found my joy here again. I experience love and care in the shelter. I enjoy human closeness very much.
Another tumor had to be removed in mid-September 2018. Thanks to the care of the team, I survived this well.
Dogs like me that are fully grown cannot find a family in Nepal. Because many dogs have to live on the street on their own, people can choose a street dog – and these are usually healthy puppies. Nobody has to go to an animal shelter. At my age and because of my deafness, I will not find a new home.
Do you want to be my sponsor?
You will receive a sponsorship certificate and a regular update on my development, as well as a tax-effective donation receipt. The sponsorship can of course be ended at any time. If you have any questions, please contact the team.
In Stephanie I found a lovely sponsor, I am very happy about that!