Description (English below)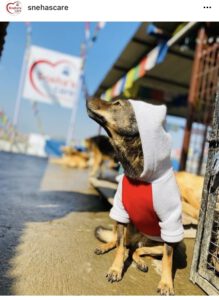 Hallo mein Name ist Mira,
ich war erst ein paar Monate alt, als ich mit einer schweren Verletzung zu Sneha's Care gebracht wurde. Ein Auto hatte mich angefahren und mein Bein verletzt. Ich war völlig verängstigt und hatte starke Schmerzen. Mir geht es inzwischen wieder gut, aber ich bin immer noch sehr ruhig und oft ängstlich gegenüber Neuem. Im Tierheim fühle ich mich sicher. Hier erhalte ich Zuwendung und Sicherheit. Ich bin dankbar , dass sie mir die Chance geben, in meinem eigenen Tempo zu vertrauen.
Ein ausgewachsener und ängstlicher Hund, so wie ich, findet keine Familie in Nepal. Weil hier viele Hunde auf sich gestellt auf der Straße leben müssen, können die Menschen sich einfach einen passenden Straßenhund aussuchen – und das sind meist gesunde Welpen. In ein Tierheim muss dafür niemand fahren. Ich werde also dauerhaft im Tierheim wohnen müssen.

Mit Andrea habe ich eine liebe Patin gefunden. Darüber bin ich sehr froh und sage herzlich DANKE!
————-
Hello my name is Mira,
I was only a few months old when I was brought to Sneha's Care with a serious injury. A car hit me and injured my leg. I was terrified and in pain. I'm fine now, but I'm still very calm and often fearful of new things. I feel safe at the shelter. Here I receive care and security. I am grateful that they are giving me the chance to trust at my own pace.
A fully grown and anxious dog like me won't find a family in Nepal. Because many dogs here have to live on their own on the street, people can simply choose a suitable street dog – and these are mostly healthy puppies. Nobody has to go to an animal shelter for this. So I will have to live in the shelter permanently.
In Andrea I have found a dear sponsor. I am very happy about that and say THANK YOU!
Bank Account Sneha's Care Deutschland e.V.
Germany - Bank für Sozialwirtschaft
IBAN: DE34 5502 0500 0001 6055 00 | BIC: BFSWDE33MNZ