Description (English below)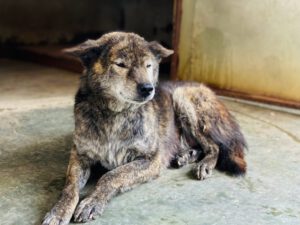 Hallo mein Name ist Fox,
bereits als Welpe kam ich in das Tierheim. Ich gehöre zu den ersten Tieren hier im Heim. Ich litt damals  an einer schweren Hautkrankheit, noch zu klein, um auf den Straßen allein zu überleben.
Dank Menschen wie dir, erhielt ich die Behandlung, die ich brauchte, und überraschte alle, indem ich mich schnell wieder erholte. Ich bin ein freundlicher und verschmuster Hund aber mit meinem Alter nicht mehr zu vermitteln.
Bei Sneha's Care sind wir ungefähr 170 Hunde mit verschiedenen Problemen und unsere Pflege kostet viel. Deshalb suche ich eine Patin/einen Paten, denn ich gehöre zu den Hunden, die schon ausgewachsen sind und keine Familie in Nepal mehr finden. Weil hier viele Hunde auf sich gestellt auf der Straße leben müssen, können die Menschen sich einfach einen passenden Straßenhund aussuchen – und das sind meist gesunde, hübsche Welpen. In ein Tierheim muss dafür niemand fahren. Ich werde dauerhaft im Tierheim leben müssen.
Mit Petra habe ich eine wundervolle Patin gefunden, die ein großes Herz für Tiere hat! Dankeschön, dass du mich siehst!
————-
Hello my name is Fox,
Already as a puppy I came to the shelter. I belong to the first animals here. At that time, I suffered from a heavy skin disease, too small to survive on the streets alone.
Thanks to people like you, I received the treatment I needed, and surprised all by recovering quickly. I am a friendly dog but no longer to convey with my age.
At Sneha's Care we are around 170 dogs with various problems and our care costs a lot. That's why I'm looking for a sponsor, because I am one of those dogs that have grown up and can no longer find a family in Nepal. Because many dogs here have to live on their own on the street, people can simply choose a suitable street dog – and these are mostly healthy, beautiful puppies. Nobody has to go to an animal shelter for this. I will have to live in the shelter permanently.
In Petra I have found a wonderful sponsor who has a big heart for animals! Thank you for seeing me!
Bank Account Sneha's Care Deutschland e.V.
Germany - Bank für Sozialwirtschaft
IBAN: DE34 5502 0500 0001 6055 00 | BIC: BFSWDE33MNZ