Description (English below)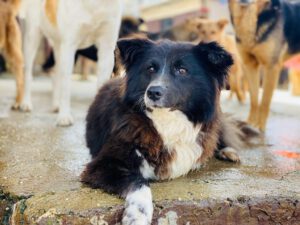 Hallo mein Name ist Alisha,
ich habe zwar nur drei Beine, aber du musst rennen, um mich einzuholen! Ich hatte einen schweren Unfall auf der Straße von Bhaktapur. Ein Einheimischer, der mich jeden Tag dort fütterte, brachte mich schwer verletzt in das Tierheim Sneha's Care. Leider konnte mein vorderes Bein nicht mehr gerettet werden und musste amputiert werden.
Dank Menschen wie dir erhielt ich die Behandlung, die ich dringend brauchte, um zu überleben und überraschte alle mit einer vollständigen Genesung.
Trotz allem, was ich durchgemacht habe, bin ich immer noch ein freundlicher und glücklicher Hund. Es macht mich glücklich, Zeit mit lieben Menschen zu verbringen. Also besuche mich gerne im Tierheim zu einem Wettrennen.
Bei Sneha's Care sind wir ungefähr 170 Hunde mit verschiedenen Problemen und unsere Pflege kostet viel. Deshalb suche ich eine Patin/einen Paten, denn ich gehöre zu den Hunden, die schon ausgewachsen sind und keine Familie in Nepal mehr finden. Weil hier viele Hunde auf sich gestellt auf der Straße leben müssen, können die Menschen sich einfach einen passenden Straßenhund aussuchen – und das sind meist gesunde, hübsche Welpen. In ein Tierheim muss dafür niemand fahren. Ich werde dauerhaft im Tierheim leben müssen.
Mit Lisa habe ich eine liebe Patin gefunden und sage ganz herzlich DANKE!
Update 05/2022
Es ist überaus schwierig und passiert so gut wie nie : Aber Alisha wurde adoptiert ! Eine Familie in Montreal, Canada hat sich in sie verliebt. Wir freuen uns sehr darüber ! Im Mai konnte Alisha bei ihrer neuen Familie einziehen.
————-
Hello my name is Alisha,
I only have three legs, but you have to run to catch up with me! I had a serious accident on the Bhaktapur road. A local who fed me there every day brought me seriously injured to the Sneha's Care shelter. Unfortunately, my front leg could not be saved and had to be amputated.
Thanks to people like you, I received the treatment I badly needed to survive and surprised everyone with a full recovery.
Despite everything I've been through, I am still a kind and happy dog. It makes me happy to spend time with lovely people. So visit me at the shelter for a race.
At Sneha's Care we are around 170 dogs with various problems and our care costs a lot. That's why I'm looking for a sponsor, because I am one of those dogs that have grown up and can no longer find a family in Nepal. Because many dogs here have to live on their own on the street, people can simply choose a suitable street dog – and these are mostly healthy, beautiful puppies. Nobody has to go to an animal shelter for this. I will have to live in the shelter permanently.
With Lisa I have found a dear sponsor and I say THANK YOU very much!
Updated 05/2022
It's extremely difficult and hardly ever happens: But Alisha was adopted! A family in Montreal, Canada fell in love with her.
We are very happy about it ! Alisha was able to move in with her new family in May.
Bank Account Sneha's Care Deutschland e.V.
Germany - Bank für Sozialwirtschaft
IBAN: DE34 5502 0500 0001 6055 00 | BIC: BFSWDE33MNZ