Description (English below)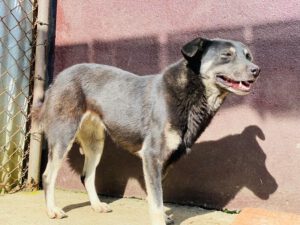 Hallo mein Name ist Lucy,
Ich wurde ausgesetzt, als ich mit schrecklichen Hautproblemen zu kämpfen hatte. Meine Hautprobleme hatten dazu geführt, dass ich den größten Teil meines Fell verlor und am ganzen Körper kahle Stellen und schmerzhafte offene Wunden hatte. Es juckte fürchterlich, so dass ich mich ständig kratzte.
Ich war es gewohnt in der Wärme eines Hauses zu leben, mit warmen, weichen Decken. Ich wusste nicht wohin, als ich auf der Straße ausgesetzt wurde. Ich bemühte mich, eine sichere Unterkunft zu finden. Aber ich musste unter einem Holzbrett auf hartem, kalten und schmutzigen Boden schlafen. Ich musste Nahrung und Wasser finden. Ich war allein.
Zum Glück kam ich zu Sneha's Care. Ich bekomme hier alles, was ich brauche – Essen, medizinische Behandlung und vor allem viel Liebe. Mir geht es inzwischen auch schon besser. Meine Wunden heilen, die Haare wachsen wieder nach. Leider gibt es hier viele Hunde, so wie mich.

Ein erwachsener Hund, so wie ich, findet keine Familie in Nepal. Weil hier viele Hunde auf sich gestellt auf der Straße leben müssen, können die Menschen sich einfach einen passenden Straßenhund aussuchen – und das sind meist gesunde, zutrauliche Welpen. In ein Tierheim muss dafür niemand fahren. Ich werde also dauerhaft im Tierheim wohnen müssen.
Mit Susanne habe ich eine liebe Patin gefunden. Darüber bin ich froh und sage DANKE!
 ————-
Hello my name is Lucy
I was abandoned while struggling with terrible skin problems. Because of my skin problems i lost most of my fur, bald spots and painful open wounds all over my body. It itched so badly that I kept scratching myself.
I was used to live in the warmth of a house with warm, soft blankets. I didn't know where to go when I was abandoned on the street. I tried to find a safe place to stay. But I had to sleep under a wooden board on a hard, cold and dirty floor. I had to find food and water. I was alone.
Fortunately, I came to Sneha's Care. I get everything I need here – food, medical treatment and, above all, lots of love. I'm feeling better now. My wounds heal, my hair grows back. Unfortunately there are a lot of dogs here, like me. I hope for a sponsor. Would you like to be my sponsor?
An adult dog like me cannot find a family in Nepal. Because many dogs here have to live on their own on the street, people can simply choose a suitable street dog – and these are mostly healthy, trusting puppies. Nobody has to go to an animal shelter for this. So I will have to live in the shelter permanently.
In Susanne I found a lovely sponsor. I'm happy about that and say THANK YOU!
Bank Account Sneha's Care Deutschland e.V.
Deutschland – Bank für Sozialwirtschaft
IBAN: DE34 5502 0500 0001 6055 00 | BIC: BFSWDE33MNZ