Description (English below)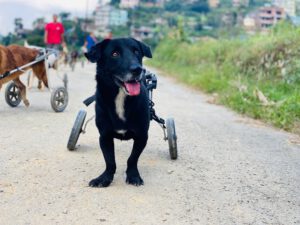 Hallo mein Name ist Kalu,
ich bin ein lieber Hund, dennoch schlugen mich böse Menschen mehrfach mit einem Stock bewusstlos und ließen mich hilflos und ängstlich auf den Straßen von Vyanjyang in Nepal zurück. Ich hatte schreckliche Schmerzen, Angst und konnte meine hinteren Beine nicht mehr bewegen.
Ein Tierfreund informierte zu meinem Glück das Tierheim. Sie holten mich zu sich. Dank Fürsorge und guter Pflege werde ich mich hier zwar erholen, aber meine Beine sind leider nicht mehr wie früher. Ohne einen Rollstuhl kann ich nicht mehr laufen.  Meine Behandlung ist kostspielig.
Trotz dieser schlimmen Erfahrung weiß ich, dass nicht alle Menschen so sind. Ich genieße Schmuseeinheiten und Aufmerksamkeit von Besuchern sehr. Mit meiner Behinderung werde ich allerdings kein Heim mehr finden können. Das Tierheim ist nun mein Zuhause.
Bei Sneha's Care sind wir ungefähr 170 Hunde mit verschiedenen Problemen und unsere Pflege kostet viel. Weil hier viele Hunde auf sich gestellt auf der Straße leben müssen, können die Menschen sich einfach einen passenden Straßenhund aussuchen – und das sind meist gesunde, hübsche Welpen. In ein Tierheim muss dafür niemand fahren.
Ich freue mich, dass ich mit Stephanie eine liebe Patin gefunden habe.
————-
Hello my name is Kalu,
I am a friendly dog, but bad people hit me several times with a stick and left me helpless and afraid on the streets of Vyanjyang in Nepal. I was in terrible pain, was scared, and could no longer move my back legs.
Fortunately for me, an animalfriend informed the shelter. They took brought me there. Thanks to good care I will recover here, but unfortunately my legs are no longer like they used to be. I can no longer walk without a wheelchair. My treatment is expensive.
Despite this terrible experience, I know that not all people are like that. I really enjoy being cuddled by visitors. With my disability, however, I will no longer be able to find a home. The shelter is now my home.
At Sneha's Care we are around 170 dogs with various problems and our care costs a lot. That's why I'm looking for a sponsor, because I am one of those dogs that have grown up and can no longer find a family in Nepal. Because many dogs here have to live on their own on the street, people can simply choose a suitable street dog – and these are mostly healthy, beautiful puppies. Nobody has to go to an animal shelter for this.
I am happy that I have found a lovely sponsor in Stephanie.
Bank Account Sneha's Care Deutschland e.V.
Germany - Bank für Sozialwirtschaft
IBAN: DE34 5502 0500 0001 6055 00 | BIC: BFSWDE33MNZ