Description (English below)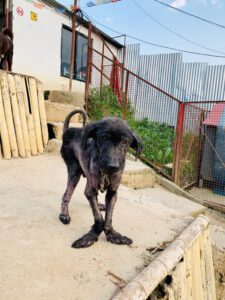 Auf Wiedersehen, lieber Billy.
Nach Krankheit mussten wir von dir mit schwerem Herzen Abschied nehmen. Wir werden dich vermissen, unseren ruhigen und lieben Billy, der jeden Sonnenstrahl ausgiebig genoß. Unseren sanften Billy, der sich nie aus der Ruhe bringen ließ. Deine schönen Augen und dein lieber Blick wird uns sehr fehlen.
Ruhe in Frieden sanfter Billy! Wir hoffe auf der anderen Seite des Regenbogens warten viele Sonnenstrahlen, grüne Wiesen und Leckerlies auf dich.
Wir danken der lieben Petra, die ihn als Patin begleitet hat!
Goodbye, dear Billy.
After illness we had to say goodbye to you with a heavy heart. We will miss you, our calm and dear Billy, who thoroughly enjoyed every ray of sunshine. Our gentle Billy, who never let himself be disturbed. We will miss your beautiful eyes and your lovely soul so much.
Rest in peace gentle Billy! We hope on the other side of the rainbow many sun rays, green meadows and treats are waiting for you.
We thank the dear Petra, who accompanied him as a sponsor!
Hallo mein Name ist Billy,
ich litt als junger Hund unter einem Kalziumdefizit, deswegen habe ich deformierte Beine. Das stört mich aber nicht. Ich kann dennoch ohne Probleme durch das Tierheim trotten. Sneha's Care nahm mich zu meinem Glück auf, denn ich habe immer wieder Hautprobleme. Mein Fell wächst nur stellenweise, deswegen sehe ich so besonders aus.
Ich bin ein freundlicher und ruhiger Hund und halte mich lieber zurück. Ich kann mich aber auch wehren, wenn es sein muss. Am liebsten lasse ich es aber entspannt angehen und genieße jeden Sonnenstrahl ausgiebig. Von Besuchern, die behutsam mit mir umgehen, lasse ich mich gerne mit Streicheleinheiten verwöhnen.
Hunde wie ich, die schon ausgewachsen und ungewöhnlich sind, finden keine Familie in Nepal. Weil hier viele Hunde auf sich gestellt auf der Straße leben müssen, können die Menschen sich einfach einen passenden Straßenhund aussuchen – und das sind meist gesunde Welpen. In ein Tierheim muss dafür niemand fahren.
Petra hat meine Besonderheit erkannt und ist zu meiner Freude meine Patin geworden. Dankeschön!
——————
Hello my name is Billy
I had a calcium deficiency as a young dog, that's why I have deformed legs. But that doesn't bother me. I can still trot through the shelter without any problems. Fortunately, Sneha's Care take care of me cause I keep having skin problems. My fur only grows in few places, that's why I look so special.
I am a friendly and calm dog and prefer to hold back. But I can also defend myself if I have to. But I prefer to take it easy and enjoy every ray of sunshine extensively. I like to be pampered by visitors who treat me gently.
Dogs like me, which are already mature and unusual, cannot find a family in Nepal. Because many dogs have to live on the street on their own, people can simply choose a suitable street dog – and these are usually healthy puppies. Nobody has to go to an animal shelter.
Petra has recognized my specialty and, to my delight, has become my sponsor. Thank you very much!